Today's Blog Everyday in September prompt: Write a short letter to yourself at ages 13, 18, and 21.
Check out those clip-on earrings… thanks 2002.
Dear 13-year-old Whitney,
You're about to enter your 8th grade year. In fact, you have less than two weeks until you begin. You should probably start your summer reading: it's no joke. You will get kicked out of class and sent to the principal's office on the first day of class from your English teacher because she does not play. This is the first year that you're taking an Honors class and it's going to be harder than you might think. But if you apply yourself, you can do it. And even though you didn't make cheerleading this year, keep trying. You'll make the high school team and meet some of your best friends. Actually, high school will be MUCH better than middle school by leaps and bounds. Just keep holding on.
Signed, 25-year-old Whitney
__________________________________
Dear 18-year-old Whitney,
See? I told you high school would be much better. You were involved in so many clubs and organizations, and it will definitely pay off for you in college. Being organized is something that will set you apart from your peers. But maybe try to work on the procrastination a little bit? That might help too. I know you've been wanting to join a sorority when you get to Winthrop, and it's a truly amazing idea. If you thought high school was awesome, you're in for the time of your life in college. Your sisters will become your best friends. Keep sticking to your values throughout the next four (or so…) years and you'll be just fine. Oh, and stop thinking that every boy you date is going to be your future husband. Remember that cute chair from Soc/Hum committee earlier this year? You're going to marry him. I know you don't believe me, but I swear it. You should have given him your number then, but you'll run across his path again. And make sure you accept him dinner offer the FIRST time. Don't make him work for it. (Okay, maybe a little bit.)
Signed, 25-year-old Whitney
P.S. DO NOT CUT YOUR HAIR IN DECEMBER. IT IS A TERRIBLE MISTAKE.
__________________________________
Dear 21-year-old Whitney,
Aren't you glad that I warned you about that cute Model UN boy? Now you're engaged and planning a wedding for next year. Time has gone by so fast! You both will endure some tough times over the next couple of years, but it will all be worth it when you're able to spend your lives together. It may not be exactly what you've always thought might happen, and it will test you in ways that you never expected. Speaking of tests, you're almost done with college! Well, a year and a half left. It's totally fine that you decided to change your major 3/4 of the way through college. You're going to end up getting an amazing job, your dream job even. It just takes a little bit of time and dedication. Make sure to get as much as experience as you can when you're in college, as many internships as possible, and you'll be just fine.
Signed, 25-year-old Whitney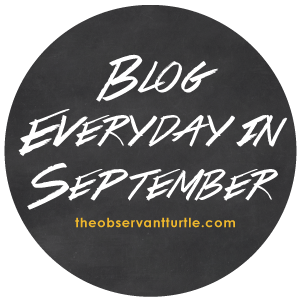 For today's link-up, please leave your blog post in the comments! I hate to do it this way, but I'm on vacation and the wifi is extremely spotty. I will try to make sure the widget is working for tomorrow's linkup. Sorry y'all! Don't forget, you can leave your post even if you didn't follow today's prompt. Just make sure to include the button or mention the linkup in your post!