I know what you're thinking by the title… this isn't the first time, right?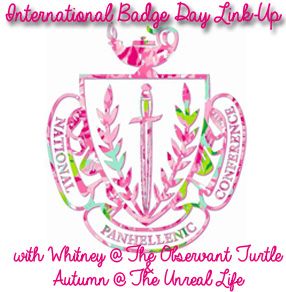 Today is International Badge Day and Autumn and I are hosting a linkup this week for Greek bloggers to share their experiences! I've talked about it before, but I can never say enough good things about my sorority experience.
When I was in high school, I knew really nothing about sororities. I knew that they had leadership opportunities and were a group of girls, but that's about it. When I joined Delta Zeta, I had only been in college for about three weeks. It's honestly one of the best decisions I've ever made.
If I hadn't joined Delta Zeta…
– I probably wouldn't have met my husband. It's because of the support of my sisters that I had the guts to speak to him and one of my sisters happened to be good friends with him. (But we'll leave that story for Thursday.)
– I probably wouldn't be as outgoing as I am now. Going through recruitment on both the potential new member and chapter side, I had to learn how to sell myself and my sorority. I had to be able to start conversations with random people and ask them questions about themselves. Of course there are places for shy people in sororities, but I definitely learned to be more talkative through this process! If you met me now, you could definitely see how bubbly and outgoing that being in a sorority made me. (Right, Houston girls?)
– I probably wouldn't be in my field. When I first started college, I was a political science major, with the intention of becoming a high school teacher. Over a few years, and different positions in my chapter, I realized that my passion was in public relations, event planning, and creating websites. While I enjoyed my time learning about different countries, I definitely made the right decision.
(me & little)
– I probably wouldn't have graduated from my university. In my first semester, I didn't like my school. I wanted to transfer to another university, one that was big, had a football team, and had my boyfriend (at the time.) Delta Zeta was the only thing that kept me there. Now, I couldn't imagine myself not having attended Winthrop University. It was the absolute perfect sized school for me.
– I probably wouldn't be so comfortable in leadership roles. Each week for a year, I had to speak in front of my chapter and coordinate a panel of at least 15 different chairwomen. That experience made me more comfortable in making decisions, leading others, and being organized. I wouldn't trade that experience for the world!
– I probably wouldn't have had many friends in Houston. One of the first things I did upon deciding to move to Houston was to look up the local alumnae group for my sorority. I started attending events and I am so grateful for the instant group of friends that this provided me.
– I probably wouldn't have had such a close group of friends in college. My pledge class consisted of 25 girls. Out of that group, there were about 6 girls that I was extremely close to. Even now, many of us live all over the country and I still consider them my best friends. College wouldn't have been the same without them.
– I wouldn't be able to give back. Being an active alumna is extremely important to me. My chapter didn't have the strongest alumnae support and being able to help out another chapter makes my heart so full. I'm currently serving as a co-recruitment adviser for a local chapter and it's been so rewarding!
Link up with us here!