Have you ever walked into a salon and felt about two inches tall because of the supermodel clientele and snobby hair stylists?
Or in others, you walk and immediately fear for the life of your hair, worried that you'll come out looking like a Muppet?
I've got the solution.
I'm really particular about where I get my hair cut. It's not just about the quality of the cut, it's about the experience of the entire appointment. I wanted a stylist with whom I could build a relationship. I wanted to be able to walk in and say "do what you wish to my head" without being afraid of what could come of it. I wanted it to be close by, not super expensive, and offer a variety of services.
One of the things I hated most about relocating is having to find a new EVERYTHING. Dentist, doctor, and even hair stylist. I asked around for quite a while before I finally made a decision. I finally decided on a salon called Josephine's.
There are two locations in Houston (Eldridge Parkway, the one I went to, and Pearland). I found on their website that they offer 25% off any service that you book on the same day. So I took them up on that offer (because when I want something, I don't want to wait) and could hardly contain my excitement for my appointment.
I walked in and was immediately captured by the HUGE chandelier hanging over me. Seriously. This thing is gorgeous. The young girl working the counter greeted me by offering me a drink. My beverage of choice this day was the orange infused water. (Y'all. That stuff was amazing.)
I waited just a couple of minutes before I was led back to the shampooing area where I laid back, relaxed, and had my hair washed and my head massaged. To me, this is the most amazing feeling in the world and they definitely did right by me. They even did a deep conditioning treatment and put a hot towel on my hair. That service alone made my decision on whether or not I'd be coming back.
(not to mention the hand massage that I recieved while the conditioning treatment was working, complete with peppermint oil. UH-MAZE-ING.)
Once I was finished, my hair stylist, Ashley, met me and walked me over to her station. I told her that I wanted something new and that would make myself look older. I also told her that I had been considering cutting my hair short for quite a while.
Just so you can get an idea, here's what she was working with:
(I don't take many pictures, okay?!)
After going back and forth for a few minutes, we decided to take the plunge and cut off about 3 inches and do an inverted bob. I cannot tell you how glad I am that I did it.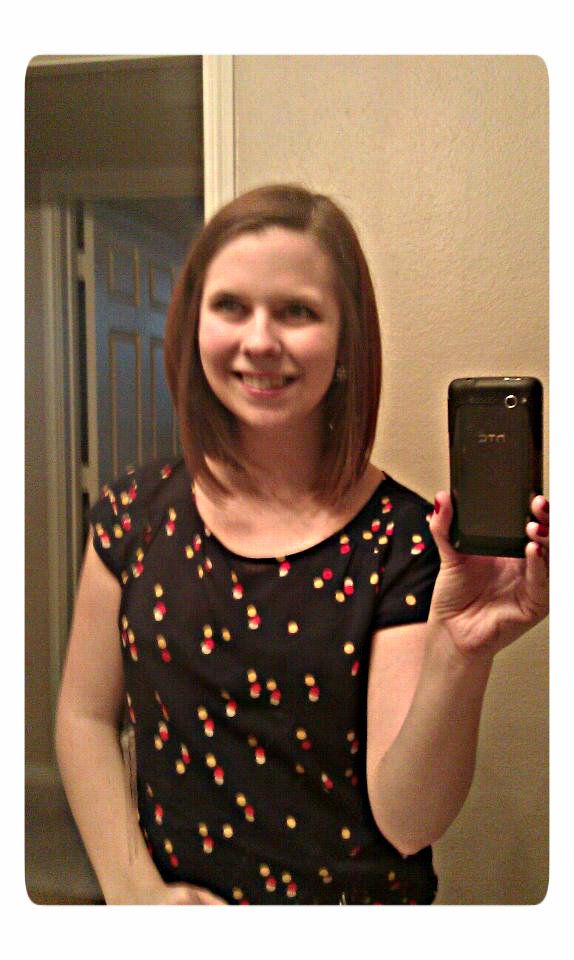 This was the final product. I was so happy with it! Since then, I've been back and had it cut even shorter and I cannot tell you how excited I am to go back on May 22. I have never before looked so forward to getting my hair cut.
While getting my hair cut, I always grill my stylists with questions about styling and maintenance. What surprised me most was that Ashley told me things that were the complete opposite of what I had been told in the past by other stylists. She insisted that layers around the face did not equal a mature looking cut (something I had been told by almost everyone I had my hair cut by before). She also said that flipping your hair over to dry it may be easier, but it's terrible on your hair. Since having this discussion with her, I have noticed a significant improvement in the quality of my hair.
As long as I live in Houston, I don't plan on going anywhere else to have my hair cut. The experience that I've had at Josephine's is one of the best that I've had anywhere. It's an Aveda salon, so they use great products and their prices are amazing for what you get. (Plus, they don't accept so that you don't have to worry about being embarrassed by pulling out that cell phone for the tip calculator.)
I definitely suggest checking out Josephine's! You can find all of the information that you need on their
website
.
*I was not compensated in any way for this post. All of the opinions expressed are my own and do not represent any one else.*