It's time again for the "From Our Kitchen to Yours" linkup! I had so much fun checking out the yummy recipes that you guys posted last week and I can't wait to see what you come up with again this week!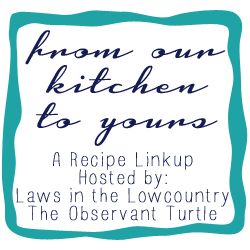 Today's recipe from me probably isn't the healthiest meal in the world, and heck, it probably isn't the prettiest dish either. But for me? This tastes like home.
It's the only meal (other than breakfast) that I can remember my great-grandmother, my Mama (pronounce maah-maah) making for us. My mom started making it too, and now I'm sharing it with my family!
Mama's Chicken Casserole
Makes 4 servings
Ingredients:
One can of cream of chicken soup
1/2 bag of egg noodles
1 lb. boneless chicken breast, shredded
8 oz. sour cream
5 slices of bread, torn into smaller pieces
4 tbsp. butter
Salt and pepper, to taste
Directions:
1. Preheat oven to 375 degrees.
2. Fill saucepan with water, add chicken. Add some salt and pepper to the water. Bring water to a boil and cook chicken breasts for about 15 minutes or until cooked through.
3. Remove chicken from water and add egg noodles to chicken water. Cook 6-8 minutes or until soft. While noodles are cooking, shred chicken.
4. Drain noodles, reserving 1 cup of water from noodles/chicken. (Note: You may not use all of the water, but just in case.)
5. Add shredded chicken and noodles to casserole dish. Pour cream of chicken into dish, sour cream, and 1/2 cup of reserved water. Stir in dish, making sure everything is mixed well. Add salt and pepper to taste. (Note: Lots of pepper is a good thing with this dish!)
6. Melt butter in small bowl in microwave. Tear into one-inch pieces and dip in butter. Lay on top of casserole. Repeat this step until entire top is mostly covered with bread.
7. Place casserole in oven and cook for about 10-15 minutes, or until bread is crispy.
8. Enjoy!
Be sure to grab the button to include in your link up! It's really easy- post your favorite recipe you've made recently. It can be anything: easy, gourmet, slow cooker, dessert… whatever!
Include a picture of your dish and post the ingredients and directions. Any helpful hints and where you found the recipe would be great too! Did you find it on Pinterest or is it an old family recipe? Tell us the story of the recipe!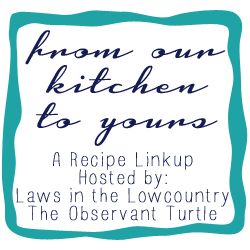 <div align="center"><a href="http://charlotteperrow.blogspot.com/" title="From Our Kitchen To Yours"><img src="http://i307.photobucket.com/albums/nn282/inlovesince22808/recipebuttoncopy2.jpg" alt="From Our Kitchen To Yours" style="border:none;" /></a></div>